At the end of July there will be an adjustment to DtC's Blog page, which is that the DtC Briefs that currently air on WAMV (Amherst, VA) and WVGV (Union City, WV) will no longer be distributed through those channels. While DtC Briefs will continue to be posted on the Blog page, and therefore still be accessible, the primary means of disseminating information and teachings will be through the DtC Newsletter. Nothing has changed except the distribution channels. We should all be very thankful for WAMV and WVGV for their bravery in airing the DtC Briefs over the years.
---
I am working on the Title IX issue relative to the Federal Department of Education's Dear Colleague Letter. It is Title IX of the Education Amendments of 1972 that the Obama Administration, through the Federal Department of Education ("ED") is using to smuggle transgenderism (that is, subjective reality) into civil government schools. Civil government schools deserve this, as it is a function of their own ideologies. Christians also deserve this for failure to build an alternative model and for failure to abolish the schools that take our money and throw it down the cultural drain.
While I have no intention of coming to any civil government school's rescue to defend them from their own humanism, I am monitoring who is doing what locally in the Lynchburg, Virginia area. I have stated publicly that the civil government school boards have been forked: if they do not abide by ED's "interpretation" (which is a gratuitous descriptor, in light of their asserted meaning being so far away from reality that it qualifies as a lie) ED might sue them; they will lose that lawsuit, for the Supreme Court long ago veered from objective reality. Alternatively school boards can comply with ED's "interpretation", which could anger some Christians. Although I think the latter course is the least resistant path for school boards. Christians are not likely to exit civil government schools. They would rather strain at gnats than drain the swamp. Besides, many of them like having two cars and a big house, and so little Johnny is expected to be salt and light, even though the parents at their respective jobs are no better witness, nor one more brave.
I sent Freedom of Information Act requests to six local school districts: Lynchburg City, Campbell County, Appomattox County, Bedford County, Amherst County and Nelson County. The letter is shown here: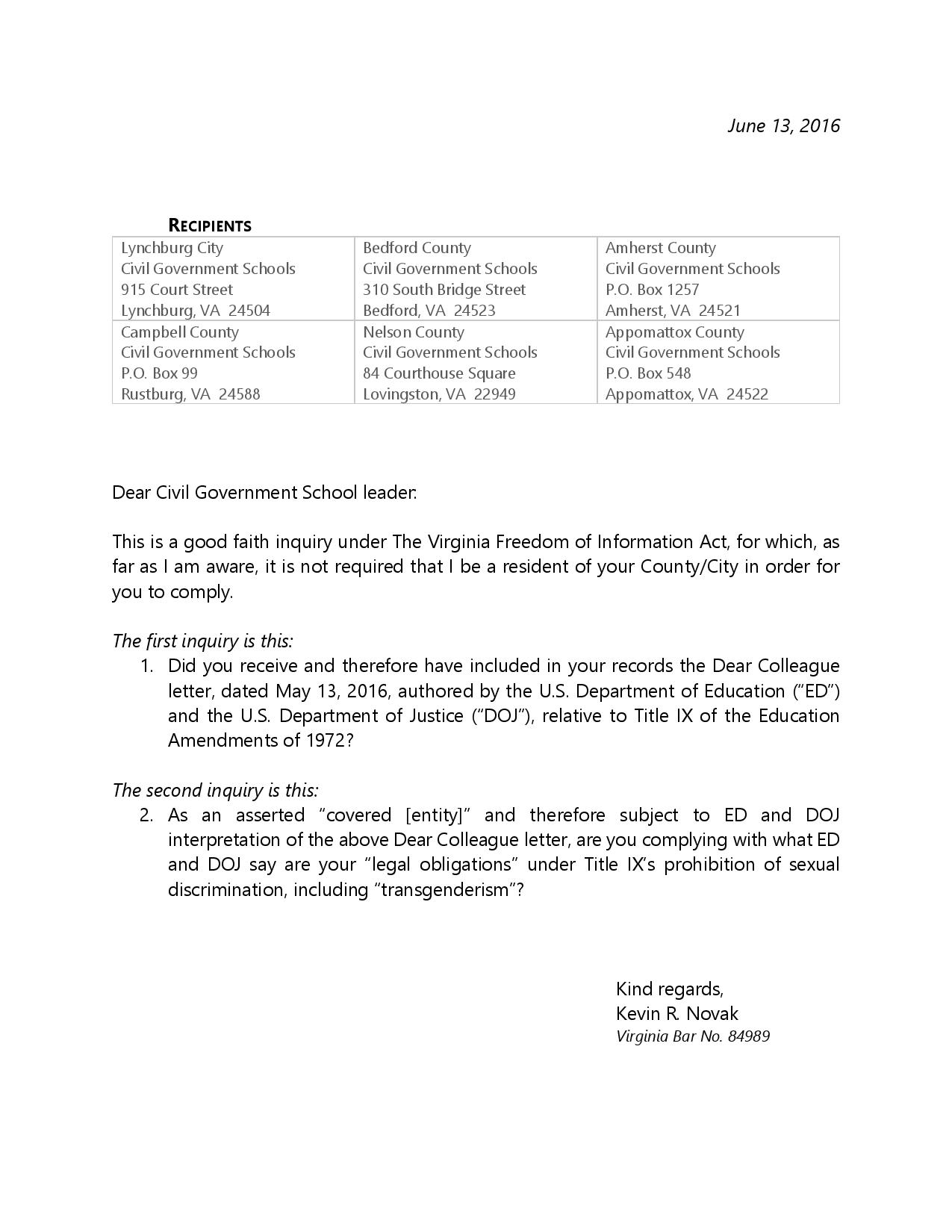 Lynchburg City, Amherst County, Campbell County, and Bedford County responded. (Click each city/county to see the letter.) Nelson County and Appomattox County did not respond (as of 6-29-16).
Now you can see the different responses to my second inquiry: Lynchburg City suggests they are following ED, as they state, "The school division complies with all current state and federal laws relative to Title IX." Lynchburg City Schools, although in a fairly conservative area, are still run by humanists. As cities get larger the consequences of humanism boil over; in response the heat is turned up. Humanism consequences compound that way.
Amherst County, which gave the exact same response as Campbell County (including erroneously adding an apostrophe after "Boards"), stated they are awaiting guidance from an attorney and the Virginia School Boards Association. But there is almost a zero percent possibility either of those parties will advise against ED. The Virginia School Boards Association is fully humanistic; most attorneys are legal positivists. Although both counties did suggest they do not "anticipate any changes to our regular school routines and accommodations". This, if truthful, while also subject to interpretation like the Lynchburg City letter, suggests to me that Amherst and Campbell counties are not following ED's mandate. But I cannot be sure about that. Finally, Bedford County did not give an answer.
I requested this information from these Counties and City because I want to press these civil government school boards as much as possible. In Virginia, while the Board of Supervisors determines what the County/City budget will be, School Boards are on the same constitutional level as Boards of Supervisors. That matters because going straight to the Board of Supervisors to deal with ED's Title IX lie will not ultimately be binding on the School Board, even if some resolution were passed or some opinions asserted on the matter. The School Boards, through the Commonwealth's Department of Education, decide what they will do. This does not mean the Board of Supervisors cannot be enticed to comment on the matter; in the end though it would not be binding.
But in this situation we must not let a good opportunity (or crisis) go to waste. We must leverage this situation. Which means pressing the School Boards to put them on notice that, as I stated above, they can either upset ED or local citizens. And I am not going to let them have the luxury of following ED's mandate with local citizens not knowing about it. For, some local school boards will expect to follow ED but in practice never have to suffer the consequences as no "transgender" student demanded they do so in an operational sense. Otherwise they are still receiving Title IX funds, contingent on their transgender policies, without any uproar. That then is the primary reason for gathering this information.
Thereafter the information is used to press the School Boards into thinking about what really is happening, and the price they are paying for receiving ED's funds. That is, although rare, there are some conscientious persons still left in this Country (for God always retains a remnant), and they may be interested in the question, How much Title IX money do we receive from ED and is it worth it, in exchange for no longer acknowledging an objective difference between men and women? Besides, even if you think there are no conscientiousness civil magistrates out there, you cannot possibly know that – for only God knows man's heart. It is merely your operational duty owed to God to show the civil magistrate that now is the perfect opportunity to reject Title IX funds. Just as you do not have control over God saving an individual after you present him or her with the gospel message, you have no control over someone else's thought processes. Besides even that still, you will know for sure – for the pulpit is silent in this regard – the civil magistrates will definitely not know about civil government school system abolition and how to move towards it incrementally (even in a de facto sense) by rejecting Title IX funds, if you do not present these facts to them.
There is another element to all this. Suppose in your area there is the general ideological starting point that children belong to man via the civil government, but they can be opted out and be educated via some other means; these people are boisterous about what have become normative ideas, and they communicate these ideas through various media and via the local civil government schools. Suppose also in your area there are NO persons with the general ideological starting point that children belong to God via the family government. Thus there is no noise coming from the non-existent second camp. Don't you think that matters to civil magistrates? So you have to create noise as the person whose operational starting point is that children belong to God via family government, and that there is no biblical authority for there even being civil government schools. You have to create conversation and debate and then market abolition.
Now, whether transgenderism will continue to cause an uproar with Christians, I think not. Thus I think this will have little effect on civil government schools going forward. Don't get me wrong, I think what ED did – while fully expected from humanists – is outrageous. I just do not think the average Christian is ready to take action; if anything they have been told not to take action: parents must not "overreact", the Christian Establishment tell us; little Johnny must learn to deal with a rotting culture, the Christian Establishment tell us.
The big press though with knowing what your local civil government school is doing matters to the budget process. You must tell your local civil government budget-makers that they must be prepared to reduce the school's budget if the school board does not reject Title IX funding. Meaning, if the civil government school is receiving "X" dollars from ED for Title IX, the civil government budget-makers must include that – and any other school budget cuts – in their starting point. So the budget process (here not including any other proposed school budget cuts) would be last year's baseline less "X". That way if the schools accept Title IX dollars you will have made them pay the price for it; if they reject Title IX dollars the schools may get that money reallocated to them.
The bigger press is that rejecting Title IX funds inches us towards the ultimate goal of abolishing civil government schools. While rejecting Title IX funds does not sound as if it moves us closer to that mark, it actually does, as the money in the civil government school game is the actual dictator – not any constitution or altruistic desire to help children. Getting the money out of the civil government schools removes the attached strings, and if enough of them are removed then we will have shifted the momentum to our abolition favor.